The Farm
"We cultivate the land with love and respect, she repays us with abundant and nutritious crops"
The farm with its land stretches for about 27 Ha on the Maritime hills, so called for the proximity to the sea. The sea, being quite close, greatly influences the climate of our hills by giving us mild winters and pleasant and breezy summers.
We cultivate our land by using
organic and biodynamic farming techniques: we practice crop rotation by alternating different types, produce and preserve our own seeds, create and maintain wooded areas which serve to protect the fields and assist with biodiversity. The breeding of various species of animals is also essential for the nourishment of our soil.
We do all of this out of respect for our territory, its plant and animal biodiversity, to produce healthy food, for our well-being and for all those who wish to spend time
on the farm as well.
Unfortunately, this concept of farming, over the years, has been replaced by modern and intensive agriculture.
We mainly produce cereal grains and extra virgin olive oil along with legumes such as chickpeas and forage.
We also have a vegetable garden which gives many delicious gifts.
In 2017 we began cultivating lavender officinalis for essential oil production.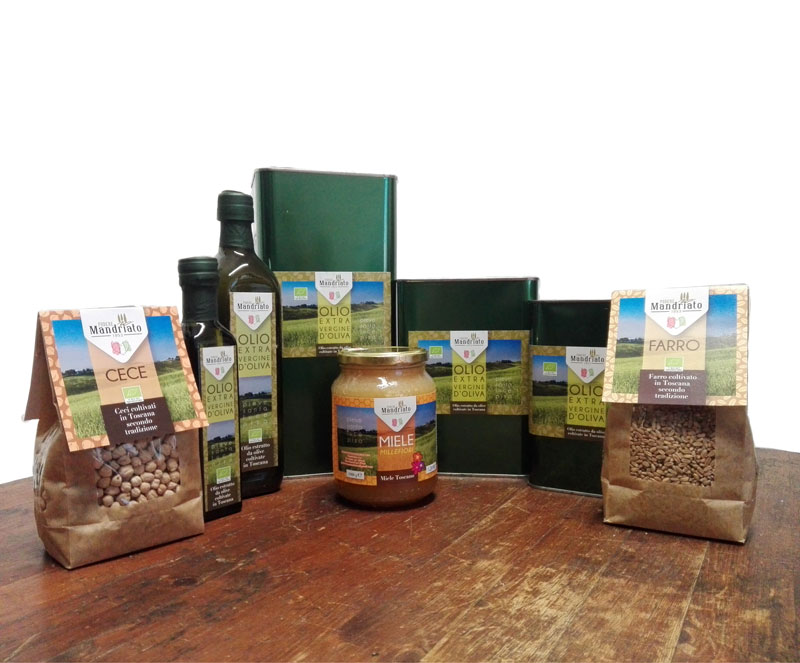 You will find various animals on our farm such as cows, donkeys, pigs, sheep, goats, chickens, geese, ducks, turkeys and our faithful shepherd dog, Argo.
We also have a diverse bee hives scattered over the entire area of the farm. Our bees collect delicious honey, which reflects the flavor of the surrounding nature.
Come and visit us
Agriturismo Mandriato
Via Aione, 30 – 56040 Santa Luce PI